Download:
Consulate
Thomas Bürkle
+49 511 / 6342201
E-Mail
Online Shop
App "Hannover Pro"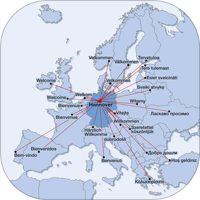 About Hannover
Press Area
Facebook
Top-Events, Nightlife and more – keep in touch with Hannover on Facebook.
Benefizauktion Schloss Herrenhausen
Choice of the works
On 14 November Herrenhausen Palace in Hannover will provide the venue for a top-ranking charity auction to raise funds for Emden's celebrated art gallery, the Kunsthalle Emden. Works by such world-famous artists as Pablo Picasso, Gerhard Richter and Georg Baselitz are to come under the hammer.
Choice of the works: