New Flight Connection
From Hannover nonstop to Bristol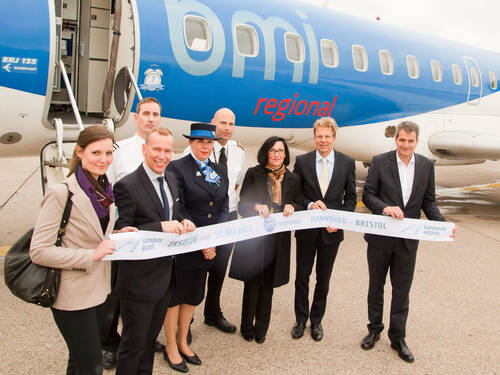 Flights to Bristol, a twin city of Hannover, are bookable from now on. Each way, on which bmi regional utilises an Embraer ERJ-135/145, costs 69 euros. Passengers can use the new connection as of now. Departures to Bristol are on Mondays to Fridays as well as Sundays at 3 p.m. Departures from Bristol to Hannover are at 12 p.m.
Expansion of Hannover's Route Network
Quite recently, Hannover Airport was able to considerably expand its route network: The Spanish airline Vueling is flying nonstop to Málaga and Barecelona since mid-March. In addition to this, the biggest airline of Greece, Aegean Airlines, offers a direct connection from Hannover to Thessaloniki since the end of May. And since June 2012 British Airways connects Hannover with the great hub of London-Heathrow.
Betriebsrestaurant Skylight
Petzelstraße 84
30855 Langenhagen