It is the 8th Studio Walk initialized and organized by the Region of Hanover. In 2020 it wants to open these doors again – this year's walk approaches its own title with self-reflection and addresses a free form of movement: the stroll. Etymologically, the word "to stroll" is based on the dialectal German word "strollen" (wandering around). A stroll can take place in urban areas as well as in rural regions. In latter case, it is closely associated with the concept of landscape. In literature, the landscape often is an offer for self-reflection, for religious or life-philosophical processes. The motif of the wanderer in urban space can be found especially in the literature of the 19th and early 20th century (Poe, Baudelaire, Benjamin etc.). The flaneur is guided by an emancipatory yearning for inefficiency.
In the 1980s, the researchers and activists Lucius and Annemarie Burckhardt developed the "strollology", the science of walking. Thus, they provided a much wider view of perception, reality, landscape, city and planning. Crucial elements of this uncommon discipline were, among other things, the aesthetics of landscape and the way of perception depending on the means of locomotion. The couple re-invented the walk as a didactic method. Together with students from the University of Kassel, they read text passages by Georg Forster, who had travelled to Tahiti with Captain Cook, in the Dönche, a former military training area in Kassel (Germany). Descriptions of Forsters supposedly untouched South Sea Idyll revealed unexpected similarities to the terrain of the Dönche. These performative walks aimed an offer to a new perspective in order to reflect the own perception, to expose landscape clichés and to rediscover familiar surroundings.
In this year's call for the exhibition of the studio walk artists who live and work in the Region of Hannover, are cordially invited to open their ateliers and to participate with their work, their ideas, their project etc. Strolling as a movement in the landscape, as a liberating, slow and unproductive activity or as a method of self-reflection serves as a stimulus.
Please find the conditions of participation here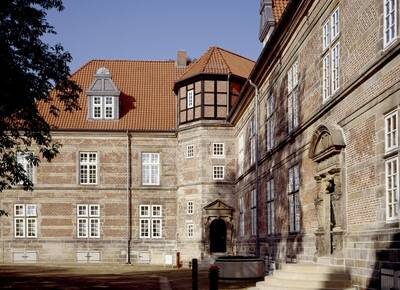 Schlossstraße 1
31535 Neustadt a. Rbge.