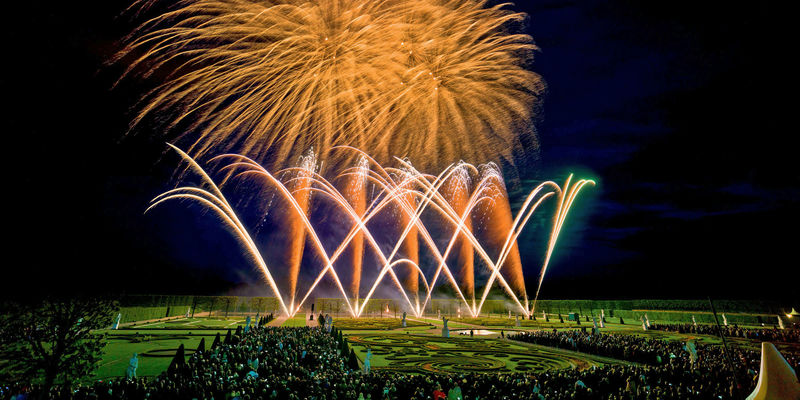 Int. Firework Competition - 1 September 2018
Year in, year out, stunning heavenly paintings in combination with perfectly matching music enchant the spectators of the International Fireworks Competition. This spectacle in extremely beautiful surroundings never fails to amaze spectators with endlessly new choreolgraphies, thanks to the best pyrotechnic artists in the world, who deliver fantastic flights of fancy, lighting up the skies in time to a perfectly chosen musical background. A thrilling overall work of art for the whole family.
Hours before darkness descends on the baroque gardens, the supporting programme of live music, walking acts and dramatic art whets the spectators' appetite for the main event. Creative tributes to the country of that evening's contestant and matching culinary delicacies ensure that time passes quickly.
The evening will begin with a sunburst of colourful aquatic creatures that rolls into Herrenhausen Gardens from the beautiful beaches of Portugal on an Atlantic wave. Needless to say, ships are a must when this seafaring nation is on the bill, and in this case, the vessels can even dance. On stage at the garden theatre, Trio Fado will transport the audience to the backstreets and miradores of Lisbon with songs full of yearning and melancholy. On the rehearsal stage, Marcia Bittencourt presents choro with highly expressive songs and pandeiro percussion. Pirate Mathjes will head straight for the children's area on his beloved ship Jolante, armed with tall tales and amusing ditties. As twilight falls, Macedos Pirotecnia will take centre stage. This well-established company owes its success to the decades of expertise accumulated by the team at events all over the globe. Numerous wins and prizes at national and international competitions from Europe to Africa and from America to Asia are ample proof of the high quality.
Herrenhäuser Straße 4
30419 Hannover