Download:
Consulate
Thomas Bürkle
+49 511 / 6342201
E-Mail
Online Shop
App "Hannover Pro"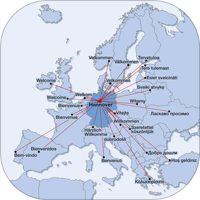 About Hannover
Press Area
Facebook
Top-Events, Nightlife and more – keep in touch with Hannover on Facebook.
City tours for groups
According to your ideas and interests, we can arrange eventful tours and themed tours with a duration of 1½ to 2½ hours for your group of guests. Please address your group inquiries to our city trip team, specifying the desired date, time (duration), meeting point, number of participants and the desired language. The prices quoted refer to guided tours in German.