Royal Gardens of Herrenhausen
Download:
Consulate
Thomas Bürkle
+49 511 / 6342201
E-Mail
Online Shop
App "Hannover Pro"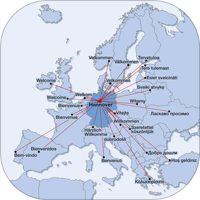 About Hannover
Press Area
Facebook
Top-Events, Nightlife and more – keep in touch with Hannover on Facebook.
Royal Gardens of Herrenhausen
Embark on an exciting tour of discovery
Stroll in one of the best-preserved baroque gardens in Europe - the Great Garden - with its over 300-year history. Let yourself be inspired by filigree patterns made of boxwood, marble pebbles and colorful flower borders. A special attraction is the grotto designed with colorful mosaics by the artist Niki de Saint Phalle. The mountain garden is no less worth seeing. As a botanical garden, it is known for its unique collection of plants from all over the world. In his show houses you can always admire up to 800 blooming orchids.