International Geocaching Mysteries: Italy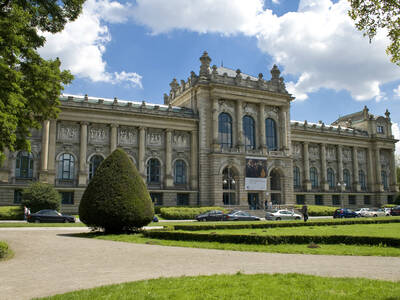 Willy-Brandt-Allee 5
30169
Hannover
Challenge: 4.5 of 5
Ground: 1 of 5
Cache-Size: large
Coordinate: N 52° 21.927 E 009° 44.410
Location: South
International Geocaching Mysteries: Italy
A cache in the 'International Geocaching Mysteries' series, presenting places in Hannover that offer 'backdoor globetrotting'!
This small-scale multicache will take you through the Lower Saxony State Museum (Landesmuseum). It can, of course, only be discovered during opening hours. These are Tuesday–Friday: 10 a.m. –5 p.m., Saturday–Sunday: 10 a.m.–6 p.m. Monday: closed.
For their search, geocachers get reduced admission to the museum (€1.50). Authenticate yourselves with reference to the listing (printed-out or on your device) at the ticket desk. But please don't take advantage of this! Start in the State Gallery (Landesgalerie) on the second floor by looking for the Italian Renaissance area. There you'll find a 'special edition' of the exhibition catalogue Die italienischen Gemälde (Italian Paintings). On page … and page … there are slightly altered illustrations of works on show. Find a mistake in each picture and note the grid reference. Then continue on the ground floor in the natural-history section, 'NaturWelten'. There, locate Pleurodeles waltl and see which number you find there. To finish off, you can head for the final in the inner courtyard, where you can apply all the knowledge you have acquired.
Geo-segreti internazionali: Italia
Un cache della serie "Geo-segreti internazionali" per presentare località di Hannover che permettono di fare un piccolo viaggio nel mondo! Questo piccolo multi-cache guida attraverso il Landesmuseum (Museo statale). Naturalmente il gioco è possibile solo durante gli orari di apertura, vale a dire dal martedì al venerdì: ore 10 – 17, sabato e domenica: ore 10 – 18. Lunedì: chiuso. I geocacher possono accedere liberamente al Museo per la ricerca. Si prega di non approfittarne! Cercare dapprima nella Landesgalerie (Galleria statale) al 1° piano l'area del Rinascimento italiano. Qui si trova il catalogo espositivo "Die italienischen Gemälde" (I dipinti italiani) in una "Sonderausgabe" (Edizione speciale). Da pagina 202 forme ci sono un po ' diverse immagini di opere esposte ( "Maria" e "Piazza" ) . Guardando ogni immagine un errore e ha notato il numero di rete . Ogni prodotto del numero e lettera il valore (esempio E2 = 5 x 2 = 10 ) . Poi si va al piano terra nei mondi naturali. Frequenta Pleurodeles Waltl e vedere quello che hard-rock il numero ( C ) si è a casa. Infine , è possibile guardare il cortile verde finale aperto e mettere in atto le conoscenze acquisite lì .