Leibniz-Rundgang Hannover
4. Leibniz-Fries am Neuen Rathaus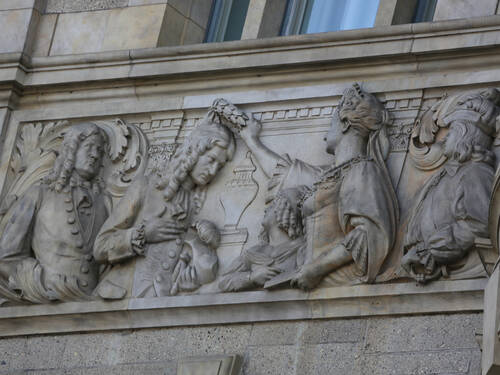 Oben an der Fassade zum Trammplatz befindet sich der Bilderfries mit Szenen aus der Stadtgeschichte. Gleich neben dem Bürgermeisterbalkon ist die oft fotografierte Szene zu sehen: Kurfürstin Sophie, die die Herrenhäuser Gärten zur Blüte brachte, setzt Leibniz einen Lorbeerkranz auf. In ihr sah der Gelehrte eine geschätzte Gesprächspartnerin, mit der er oft durch die Gärten spazierte. Karl Gundelach schuf diese Darstellung, die in einer Reihe mit den großen Ereignissen der Stadtgeschichte steht. Das Stadtmodell in der Eingangshalle von 1689 zeigt die Stadt zur Zeit von Leibniz.
Information in Englisch
The frequently photographed scene is displayed in the pictorial frieze on the outside of the building next to the mayor's balcony: it shows Electress Sophie – the initiator of the Royal Gardens of Herrenhausen – placing a laurel wreath on Leibniz's head. She was one of the people the genius enjoyed conversing with, and he often went walking with her through the Royal Gardens. This sculpture was created by Karl Gundelach in a work which includes other famous personalities who played a part in the city's history. The model of the city in the entrance hall
shows how the city looked in 1689 at the time that Leibniz lived there.
address
Trammplatz 2
30159 Hannover