Leibniz-Rundgang
5. Leibniz-Denkmal: Künstlerhaus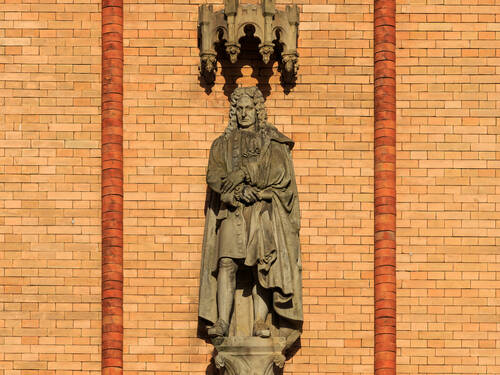 Wer unter dem Kronleuchter in der Sophienstraße vor dem Künstlerhaus steht, erkennt ganz links oben an der Fassade die Figur von Gottfried Wilhelm Leibniz auf einer Konsole unter einem Baldachin. Mit Lockenperücke und in staatsmännisches Tuch gehüllt steht der Gelehrte dort mit gefasster Miene. Der in Springe geborene Bildhauer Carl Dopmeyer (1824–1899) schuf das Werk – genauso wie den Gänselieselbrunnen am Steintor oder das Lutherdenkmal an der Marktkirche. Auch die Figur Alexander von Humboldts (rechts an der Fassade) stammt aus Dopmeyers Atelier.
Information in English
Visitors standing in front of the Künstlerhaus under the chandelier in the Sophienstraße see in the far top left of the facade the figure of Gottfried Wilhelm Leibniz on a console beneath a canopy. The polymath is shown with a resolute face, a curled wig, and statesman-like robes. The creator of this work of art was the sculptor Carl Dopmeyer (1824 – 1899). Born in Springe, his other works include the Gänseliesel fountain at Steintor, and the Luther memorial at the Market Church. The statue of Alexander von Humboldt (on the right-hand side of the facade) also originated in Dopmeyer's studio.