Leibniz-Rundgang
6. Leibniz-Denkmal: Opernplatz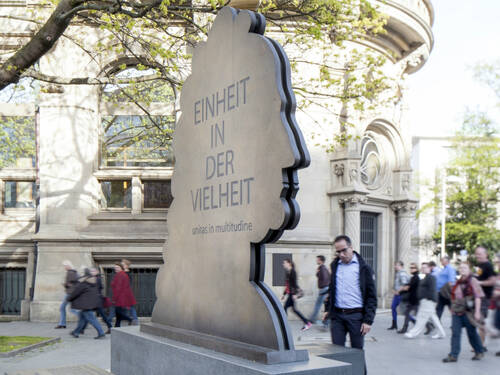 Der goldig glänzende Bronzekopf des Universalgelehrten im Stil des Scherenschnitts ist 2,50 Meter hoch und zeigt auf der einen Seite das binäre Zahlensystem. Leibniz erkannte, dass man auf der Basis von zwei Symbolen alle Zahlenwerte darstellen kann und seine Ideen waren weitreichend: Auf den Zahlen null und eins basiert das Rechnen heutiger Computer. Auf der anderen Seite des von Prof. Stefan Schwerdtfeger entworfenen Denkmals ist Leibniz' Motto "Einheit in der Vielfalt" zu lesen. Das 750 Kilogramm schwere Erinnerungsstück mit Granitsockel schmückt seit 2008 die belebte und beliebte Ecke an der Georgstraße und dem Operndreieck.
Information in English
The shiny gold-coloured bronze head of the universal genius in the style of a silhouette is 2.50 metres high, and displays the binary number system on one side. Leibniz discovered the binary code, and his idea was extremely far reaching: today's computers calculate with the numbers zero and one. The other side of the memorial created by Professor Stefan Schwerdtfeger displays Leibniz's motto "Unity in diversity". Weighing 750 kilograms in total, the memorial on its granite base has embellished this well loved and busy corner of the Georgstraße and the Opera triangle since 2008.
address
An der Börse 1
30159 Hannover