Leibniz-Rundgang
7. Leineschloss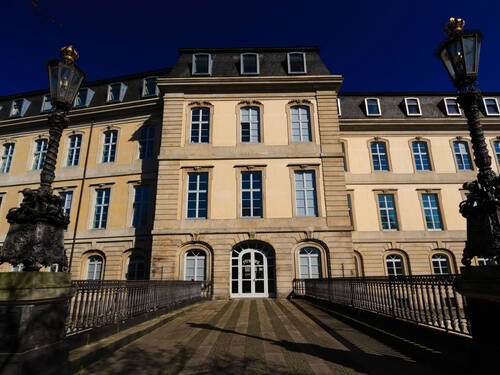 Arbeiten und Wohnen im Leineschloss – das begann für Gottfried Wilhelm Leibniz im Dezember 1676, kurz nachdem er nach Hannover gekommen war. Als er die Bibliothek des Herzogs übernahm, hatte sie 3.310 Bände und 158 Handschriften. Dank seiner internationalen Kontakte weitete er den Bestand schnell aus. Er konzipierte auch den Rittersaal im Schloss neu. Wie die Deckengemälde und Porträts der welfischen Fürstenfamilie anzuordnen waren, hielt er in Entwürfen fest. Das 1637 errichtete Schloss wurde ab 1688 prachtvoll umgebaut. Leibniz zog mit den Büchern in die Lein-, später in die Schmiedestraße. Heute wird wieder renoviert – der Sitz des Niedersächsischen Landtags erhält ein neues Gesicht.
Information in English
Working and living in the Leine Palace – for Gottfried Wilhelm Leibniz, this began in December 1676 shortly after arriving in Hannover. When he took over the management of the Duke's library, it contained 3,310 volumes and 158 written documents. He expanded the contents of the library very quickly thanks to his international contacts. He also redesigned the Knights' Hall in the palace. He made designs showing how the ceiling paintings and the portraits of the aristocratic Guelph family should be arranged. Originally built in 1637, the palace underwent ornate conversion work beginning in 1688. Leibniz moved along with his books into the Leinstraße, and later into the Schmiedestraße. The building is being renovated again today – giving a new look to the Niedersachsen parliamentary building.
address
Schloßstraße 4
30159 Hannover