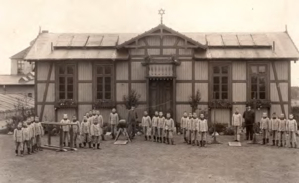 The tabernacle (sukkah) made of wood and built in 1899 served a religious purpose. Parts of its roof had to be kept open during the Jewish festival of tabernacles (Sukkot) in order to commemorate life under the open sky during the exodus from Egypt. During the rest of the year, the structure was used as a storage room for sport equipment and as a gymnasium.
The wooden building was transferred in a slightly modified form to a park to the west of the main building. In 1945 it was used as an execution site for the neighbouring Gestapo-prison.
In 1993 the area of the former Sukkah was surrounded by ashlars. The inscriptions reflect the state of knowledge at the time.