Hannover Medical School
Nerve Implants Out of Crab Shell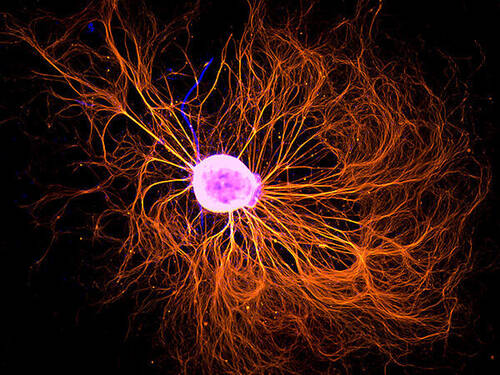 Work or leisure time accidents frequently result in gaps between transected peripheral nerve ends. Nerve surgeons usually bridge these gaps with autologous nerve tissue from the same patient. This results, however, in a second nerve lesion and therefore autologous nerve tissue has a limited availability. Bioartificial nerve guidance channels could provide an alternative treatment. Coordinated by Professor Dr. Claudia Grothe, director of the Institute of Neuranatomy at the Hannover Medical School (MHH), the European "BIOHYBRID" research consortium (funded by the EU-FP7-HELATH program) developed such nerve guidance channels from chitosan two years ago.
Chitosan
Chitosan is hydrolyzed from chitin from crab shells and biodegradable and biologically inert. For the production of the nerve guidance channels, chitosan has been fine-tuned in order to receive collapse-stable and easy to suture channels. In animal experiments nerve gaps of 10-15 mm in length have been bridged with the channels and functional recovery has been comparable to that after use of autologous nerve grafts. Approximately one year ago, the chitosan based channels have been approved for clinical use and are since then in use for human patients.
Improved nerve regeneration
Based on these results, Professor Dr. Kirsten Haastert-Talini, MHH-Institute of Neuroanatomy, and the European research team demonstrated in animal experiments that peripheral nerve regeneration is further promoted when the channels are separated into 2-chambered tubes by longitudinal insertion of a perforated chitosan film. "This way the regenerated nerve is not only 1-stranded but 2-stranded and small blood vessels grow through the perforations and connect the two branches. Use of the 2-chambered nerve guidance channels resulted in an increased motor functional recovery in comparison to the 1-chambered channels", she reports.
Publication in Biomaterials
"When available for clinical use, it is very likely that the modified channels will be used more frequently than those that are currently available", Professor Grothe comments. The study results further provide evidence that nerve lesions in diabetic patients regenerate better when bridged with chitosan nerve guidance channels.
The study has been published open access in "Biomaterials" 2016 Jan;76:33-51. doi: 10.1016/j.biomaterials.2015.10.040 (http://www.ncbi.nlm.nih.gov/pubmed/26517563).
For further information contact Professor Dr. Claudia Grothe, Tel. +49 511 5322897 or grothe.claudia@mh-hannover.de.
The photomicrograph shows nerve fibers (red) growing out of sensory nerve cells. Its use is permitted when linked to this press information and when the source is given as "Freund/Haastert-Talini".
(Published: 18. January 2016)